News
MannionDaniels: putting the rights and needs of persons with disabilities at the forefront of our work
Posted: 08/12/2020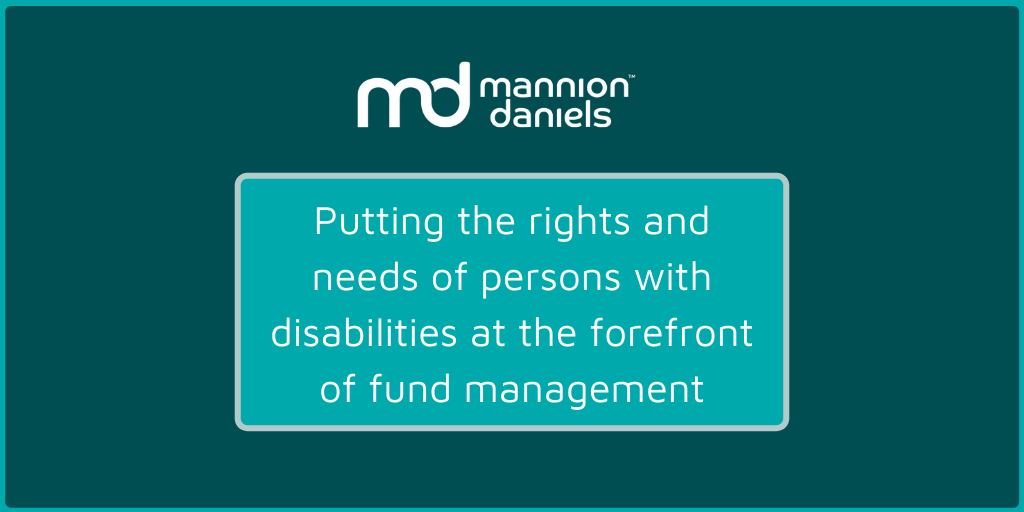 A key part of MannionDaniels' mission is to work for an equitable and inclusive world and to this end tackling issues affecting persons with disabilities is a central thread through all our streams of work.
Persons with disabilities face distinct barriers to care, services, education, employment and information about health and rights, gender-based violence (GBV) and other violence and abuse. The International Day of Persons with Disabilities on 3 December 2020 last week provided an opportunity for us to reflect on some effective approaches both ourselves and our grant holders have used to overcome the challenges.
As a company we are committed to accessibility, both as a technical focus of our work on disability rights and services, as well as an intrinsic value underpinning our approach. To highlight the company's dedication, MannionDaniels is part of the UN Global Compact and has become B-Corp certified. Both certifications require proactive commitment and work on social values, including disability issues, to contribute to reduced inequality, lower levels of poverty, a healthier environment, and stronger communities.
MannionDaniels is committed to making its web content accessible. We are working on changes to our online grants management portal, and UK Aid Direct and UK Aid Match websites, so that they are fully compliant with the Web Content Accessibility Guidelines by May 2021. AmplifyChange website will also undergo a disability audit during 2021.
In our role as a Fund Manager, MannionDaniels is trusted to manage a broad portfolio of grant-making platforms that support civil society to tackle a range of international development issues around the world. MannionDaniels' fund management portfolio includes three broad-reaching funds, each one tackling disability issues from a different perspective:
- UK Aid Direct, funded by the UK Government's Foreign, Commonwealth & Development Office (FCDO), is a multi-sectoral fund that supports the direct delivery of poverty reduction interventions by small and medium civil society organisations (CSOs). It sees the inclusion of persons with disabilities (alongside other vulnerable and marginalised groups) as essential, whatever the focus of their interventions. There is a strong focus around supporting persons with disabilities in education, livelihoods and health sectors
- AmplifyChange supports, and helps to connect, a network of some 1,000 civil society organisations working on sexual and reproductive health and rights (SRHR) across Sub-Saharan Africa and South Asia. An increasing number of grants are to small grassroots organisations of persons with disabilities working to ensure that countries meet their obligations to respect, protect, and fulfil the SRHR of persons with disabilities.
Disability & inclusion within the UK Aid Direct portfolio
- 11% of projects are focused on disability
- Persons with disabilities are a primary target group of a further 24% of projects
- These represent over £20 million of investment through UK Aid Direct
- Across 23 countries in Sub-Saharan Africa and South Asia.
Disability & inclusion within the AmplifyChange portfolio
- Over 10% of grants are to projects which focus on improving SRHR for persons with disabilities
- Across 28 countries with over 75% of in Sub-Saharan Africa.
- 40% of grants working on disability are implemented by women-led groups.
Selected strategies from across the portfolio include:
Improving services and support for persons with disabilities
Challenging stigma and discrimination
Empowering persons with disabilities to become their own advocates, make their own decisions and hold others to account
Ensuring national policies are inclusive of persons with disabilities.
For a more detailed discussion of these strategies please refer to the recent UK Aid Direct and AmplifyChange disability analysis.
The two case studies presented below provide a snapshot of how grantees have tackled these issues:
UK Aid Direct Grantee: Humanity & Inclusion, Bangladesh
Humanity & Inclusion is an independent charity that works alongside persons with disabilities and vulnerable people to help meet their basic needs, improve their living conditions, and promote respect for their dignity and fundamental rights.
With a UK Aid Direct Impact grant, Humanity & Inclusion is working alongside government, organisations of persons with disabilities, and communities in the Rangpur and Chittagong divisions of Bangladesh, to develop tailored solutions to meet the needs of persons with disabilities who are most in need.
Two years into the project, over 1,600 persons with disabilities have received regular physical and psychosocial rehabilitation services, enabling improved independence and social participation. The economic empowerment and resilience of over 880 households has also improved and over 1,150 households have been supported to improve their disaster preparedness with coping mechanisms in areas prone to frequent and devastating flooding.
AmplifyChange Grantee: Center for Disability and Rehabilitation (CDR), Uganda
The Center for Disability and Rehabilitation works with parents of children with disabilities. CDR was set up in 2007 by parents to respond to the need for sustainable rehabilitation and active inclusion of young persons with disabilities in their communities. CDR empowers parents as self-advocates.
With AmplifyChange support through an Opportunity grant, CDR has worked to combat the exclusion of girls with hearing challenges from sexual reproductive health programmes in Mukono District. It succeeded in ensuring deaf girls could access the SRH services they need. Based on its progress, CDR 'graduated' and was able to secure a larger grant to extend access to SRHR information and services among deaf girls in the neighbouring district of Luwero.
Due to the current global pandemic, a core theme for 2020 is also Covid-19 and the impact on mental wellbeing of persons living with disabilities.
COVID-19 has clearly revealed the existing fault lines of inequity and stigma and exacerbated them. Globally, we are seeing COVID-19 being used as a pretext for closing civic space, stigmatising persons with disabilities. Central to our work is to ensure continuity of support to these civil society organisations (CSOs), especially in times of crisis such as the ongoing COVID-19 pandemic.
Organisations of persons with disabilities have recorded a raft of barriers for persons with disabilities. For example, washing hands without significant assistance is challenging for some. Many people need carers therefore reducing their ability to physically distance. Some need to touch their face or a wide range of objects more often to support mobility or communication. Persons with disabilities are often excluded from information channels and formats about protection from the virus.
We are supporting local CSOs as an essential part of the solution. You can learn more about our adaptations in our AmplifyChange policy brief and UK Aid Direct website.