News
How can we learn from each other during COVID-19 times?
Posted:
As part of MannionDaniels' response to the global COVID-19 pandemic, we've developed the AmplifyChange learning platform, amplifychangelearn.org, to share real-time lessons and experiences of grantees during the health crisis. Our aim is to set up virtual 'communities of practice' where advocates working on sexual and reproductive health and rights (SRHR) can share their experiences, grow in solidarity, and learn from others.

AmplifyChange is a SRHR advocacy fund, currently managed by MannionDaniels in a consortium with the Global Fund for Women and the African Women's Development Fund. Since its launch in 2014, AmplifyChange has built a reputation as an approachable, responsive and reactive donor that prioritises and promotes its grantees at every point in the funding process.
The COVID-19 pandemic presented new challenges for AmplifyChange grantees – barriers in SRHR funding, ways of working, nearly all aspects of grantees' projects were and continue to be challenged by the health crisis.
Through these challenges of country-wide lockdowns, restrictions in movement and communication and increased socio and cultural barriers to SRHR advocacy, AmplifyChange grantees have developed resilience and new ways of working.
To share these valuable lessons and to help strengthen organisations working on SRHR, AmplifyChange worked quickly to establish grantee authors for a set of 'How to guides' that would be housed in a new section on amplifychangelearn.org – a place for grantees to share learnings on SRHR advocacy – all centred around managing and adapting during a health crisis.
The guides are categorised in four groups: staying safe, adapting, pivoting projects and learning.
The 'Manage during a health crisis' section on amplifychangelearn.org now houses 23 guides in English and French by 21 grantee authors from 9 countries in sub-Saharan Africa and South Asia.

The topics are broad; from operational advice in guides on how to use teleworking and how to safeguard well-being in the virtual workplace, to building resilience by making health crisis responses inclusive, sustaining youth advocacy work and providing mobile services during a pandemic.
A large number of guides address the increased sexual and reproductive health and right issues that are a serious consequence of the COVID-19 pandemic and the resultant measures to tackle the spread of the disease. The most vulnerable and marginalised suffer worst in a crisis, and COVID-19 has been no exception.
With guides such as
- How to support survivors of gender-based violence (GBV) during lockdown by the organisation Jan Sahas in India,
- How to mobilise SRH resources for women and girls with disabilities during lockdown by Zimbabwean grantee Deaf Women Included,
- How to support transgender persons during a health crisis by Pakistani grantee Da Hawwa Lur
The new set of resources on amplifychangelearn.org is designed to support and build resilience of the organisations working on the core SRHR priorities of AmplifyChange.
To promote these resources and the lessons from the AmplifyChange grantees, the guides are being shared through AmplifyChange social media channels.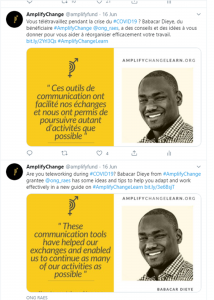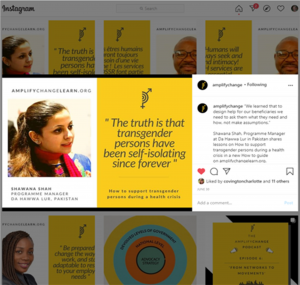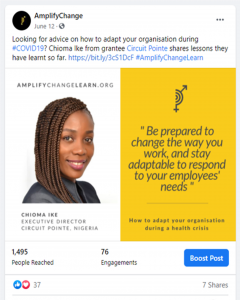 Through amplifychangelearn.org, MannionDaniels and AmplifyChange have continued to be responsive to the needs of grantees sharing SRHR lessons widely and putting grantees front and centre to help achieve sexual and reproductive health and rights for all.