News
MannionDaniels organises the Menstrual Cup Coalition Summit 2020
Posted: 06/11/2020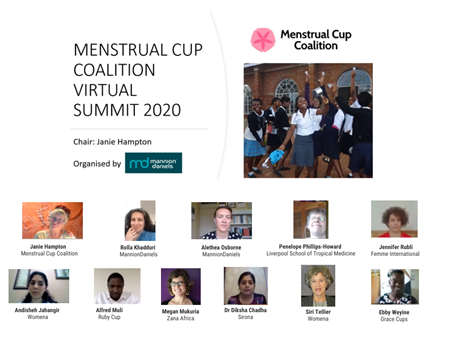 MannionDaniels is proud to be a member of the Menstrual Cup Coalition, to help support their activities in 2020 and 2021 as part of our pro-bono work. As part of the partnership, we provide help- desk facilities answering queries from Members, and we organised the Coalition's annual Menstrual Cup Summit.
MannionDaniels supports the Menstrual Cup Coalition recognising the important connection between gender rights and the environment.
The Menstrual Cup Coalition (MCC) is an organisation that supports the safe use of affordable menstrual cups. With almost 50 member organisations, the Coalition is the central place to share knowledge and good practice of implementation and research around menstrual cups. This knowledge sharing will in turn help to ensure that menstrual cups are available for vulnerable women and girls, and that they are used correctly and safely.
Menstrual cups play a valuable role in the Sexual and Reproductive Health and Rights (SRHR) of women and girls. Through information, education and research we believe that menstrual cups can become more accessible and widely used, leading to more comfortable, economical, environmentally-friendly and dignified periods.
A menstrual cup is a small silicone cup that collects menstrual flow inside the body and is emptied twice a day, lasting for up to ten years.  Menstrual cups improve comfort and confidence, health and reduce environmental waste.
In July, MannionDaniels organised the first virtual MCC summit. The summit was a chance for members to come together to share information about menstrual cups and to talk about any challenges and successes they experienced during their research and educational activities.
There were over 70 participants, including academics, activists, and menstrual cup producers from several counties, including India, Kenya, Uganda, Canada and the UK. 10 keynote speakers covered topics ranging from the latest research, media and marketing of menstrual cups, to import duty and sales tax barriers.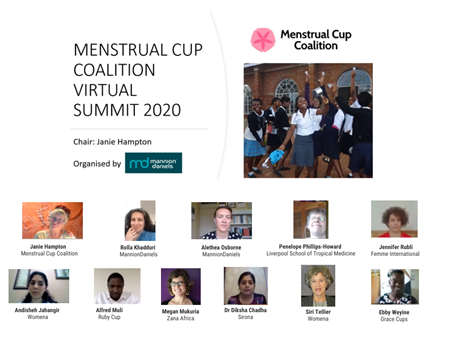 Keynote speakers at the MCC summit 2020
During the summit, several powerful videos were played, including a clip from Ebby Weyine, the founder of Grace Cups in Kenya. Ebby uses social media to destigmatise periods and encourage the use of menstrual cups.
A short film 'Ayanda's periods' by award-winning filmmaker Lauren Anders Brown was also played. The film showed the positive impact a menstrual cup can have on young women if they have access to reliable information and services.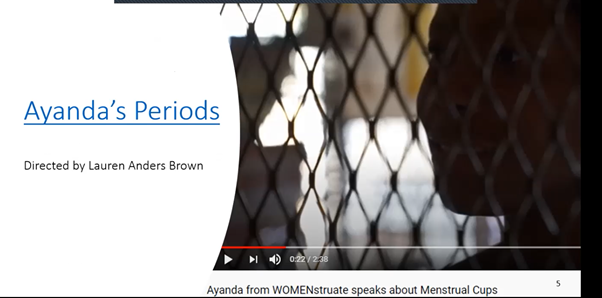 Film still from Ayanda's Periods
The speakers and participants at the summit talked about their challenges and successes during their research and education. They demonstrated the excellent and encouraging work that is being done all over the world, in the private, charitable, academic and government sectors to encourage the use of menstrual cups.
What is next for the MCC?
The MCC in partnership with MannionDaniels, will continue to share information on training and best practice for menstrual cups and continue to promote menstrual cup projects especially in vulnerable places. We will support advocacy movements surrounding the benefits of removing tax and duty on menstrual cups, inform on safe standards for cups and encourage and share peer-reviewed research into their safe use.