News
MannionDaniels publishes first Climate Neutral Now report
Posted: 07/07/2023
In 2022, MannionDaniels joined the United Nations Framework Convention on Climate Change (UNFCCC) Climate Neutral Now (CNNow) pledge. We recently submitted our first report covering activities in 2022 and we're delighted to have achieved Gold – Gold – Gold across CNNow's Measure, Reduce and Contribute steps, the highest possible score. Only 17 CNNow participant organisations worldwide scored Gold across the three categories in their most recent report, out of 762 CNNow participants in total. Our score puts MannionDaniels in the top 2.3% of a highly motivated sustainability group, including several large multinational organisations.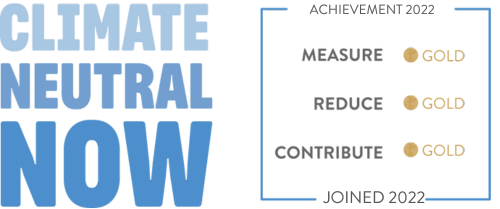 Our score of Gold in the 'Measure' step reflects our commitment to measuring our full GHG inventory (including full Scope 3), and having this verified by a third party. Our GHG inventory is verified by Climate Impact Partners, who also certified MannionDaniels UK as Carbon Neutral from 1 June 2021 to 31 December 2023.
MannionDaniels scored Gold in the 'Reduce' step, for having a Net Zero by 2050 plan and emissions reductions targets more ambitious than 5% year-on-year reductions. Our emissions for 2022 were 15% below our target for 2022, and 26% below our 2019 baseline emissions. We're well on track to achieve our 2030 target of a 50% emissions reduction from the 2019 baseline, and have set many ambitious actions as part of our carbon reduction strategy.
The Gold score in the 'Contribute' step was achieved for providing climate contributions for our full GHG inventory, including Scope 3, through purchasing credible carbon credits. For the period 1 June 2022 to 31 December 2023, MannionDaniels are supporting a new initiative which provides solar lighting systems to off the grid households in East Africa. In doing so, we are helping households to move away from expensive kerosene gas lamps, over to safe and renewable solar lighting. This reduces domestic energy needs and carbon being released into our atmosphere. So far, the Gold Standard verified project has installed affordable solar energy in over 750,000 homes throughout East Africa, whilst also contributing to several UN Sustainable Development Goals. MannionDaniels also supports community programmes by investing the total cost of carbon offsetting into projects chosen by staff. For 2023, we're supporting a tree nursey project in Kakamega, Kenya, a solar panel installation project in Bath and Somerset, and a carbon plantation project in Suffolk.