News
The global movement to end Female Genital Mutilation/Cutting (FGM/C) must include Asia
Posted: 09/02/2023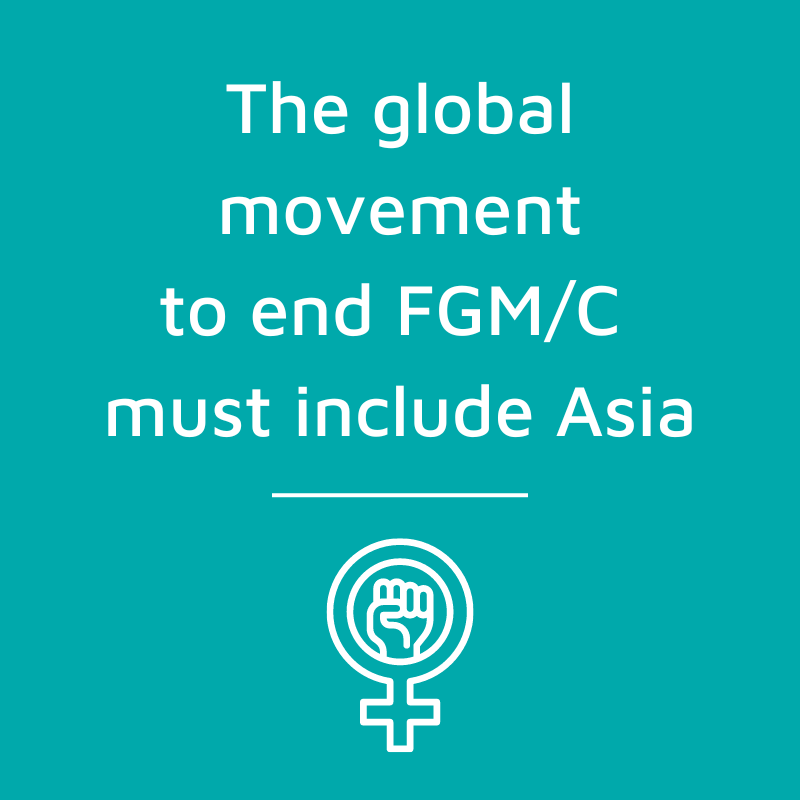 We know that at least one million women and girls are being cut yearly in Asia, although the exact figure is unknown. It's a subject that is rarely spoken about and numbers are only reported in two countries - Indonesia and the Maldives. At present, girls who are cut are cut in silence.
Funded by the Dutch Ministry of Foreign Affairs, we are supporting the Asia Network to raise awareness of the practice, and ultimately end FGM/C in Asia. As a starting point, collaborating with the Asian-Pacific Resource and Research Centre for Women (ARROW) and Orchid Project, we are working to build the Asia Network, a network of advocates to eradicate FGM/C globally, making sure all women and girls have ownership of their rights.
What is FGM/C?
Female genital mutilation or cutting (FGM/C) is a permanent and harmful procedure involving partial or total removal of the external female genitalia or other injury to the female genital organs for non-medical reasons. It is a violation of girls' and women's fundamental human rights and can lead to life-long damage to the female body and wellbeing.
Why is FGM/C practiced in Asia?
Religious obligation is cited as the top reason for FGM/C in Asia, with much of the practice taking place in Muslim-majority communities. The fatwa (Islamic religious law) states that to outlaw FGM/C would be against Shariah law, and therefore ending FGM/C is seen as a recommendation, not an obligation. Due to this, political leaders seem unwilling to push for a law banning FGM/C, despite increasing work from grassroots organisations to raise awareness of the negative impacts of FGM/C.
There is often a lot of social pressure around being cut, with a big celebration taking place to mark the occasion. Women and girls are made to feel shame and stigma if they haven't been cut and missing out on this rite of passage can make them feel outcast and alone. There is also the widespread belief that FGM/C reduces female sexual drive and enhances male pleasure, something that is sometimes seen desirable by men to assert control over female rights and bodily autonomy.
What does the research say?
There is very little research surrounding FGM/C in Asia. In many circumstances people are unaware that FGM/C is being practiced and lack knowledge of the damage it can cause. This can make advocacy on the topic very challenging. Therefore, members of the Asia Network are working to produce more evidence highlighting the prevalence, norms, and effects of FGM/C in the region.
According to Yayasan Kesehatan Perempuan (YKP), a Women's Right Foundation in Indonesia, and a member of the Asia Network, 77% of girls in Indonesia who are cut were cut in their first five months of life, and in Malaysia 90% of girls who are cut were cut in their first year of life. Their research shows that in Indonesia, midwives, alongside Traditional Birth Attendant's (informal health care providers, TBAs), perform FGM/C claiming they are the only people who can practice it safely. Some midwives are known to offer a package for new-borns which includes a birth certificate, ear piercing and FGM/C procedure.
Rahima, Center for Education and Information on Islam and Women's Rights Issues is a non-government organisation (NGO) that focuses on Islam, Gender, and Women's Rights in Indonesia. Their research shows that 45% of FGM/C is being done by TBAs, 16% by TBAs supported by traditional midwives, 38% by medical midwives, and 1% by doctors. Midwives and the midwife's association have acknowledged that FGM/C is not necessary but claim that they are responding to demand for it from parents, communities, and other influential figures.
These statistics paint a devastating picture of the lack of awareness surrounding FGM/C, and the need to engage medical professionals, midwives and TBA's in the region to ensure FGM/C isn't carried out at birth or at any age in a girls' life. The lack of medical voices speaking out against the practice is seen as a large barrier to advocacy efforts, as they have a huge influence over community decisions regarding FGM/C.
YKP have been working with TBA's as part of their advocacy efforts. They provided scholarship programmes to 100 daughters of Traditional Birth Attendants (TBAs) to teach them the harmful effects of FGM/C and encourage them to break the social norm of continuing the role that is passed down to them by their mothers. By breaking this chain, YKP could provide them with alternative skills and opportunities to make a living. This example highlights the importance of more research into FGM/C in Asia, to ensure platforms like the Asia Network are targeting the right influential figures and practitioners of FGM/C in communities.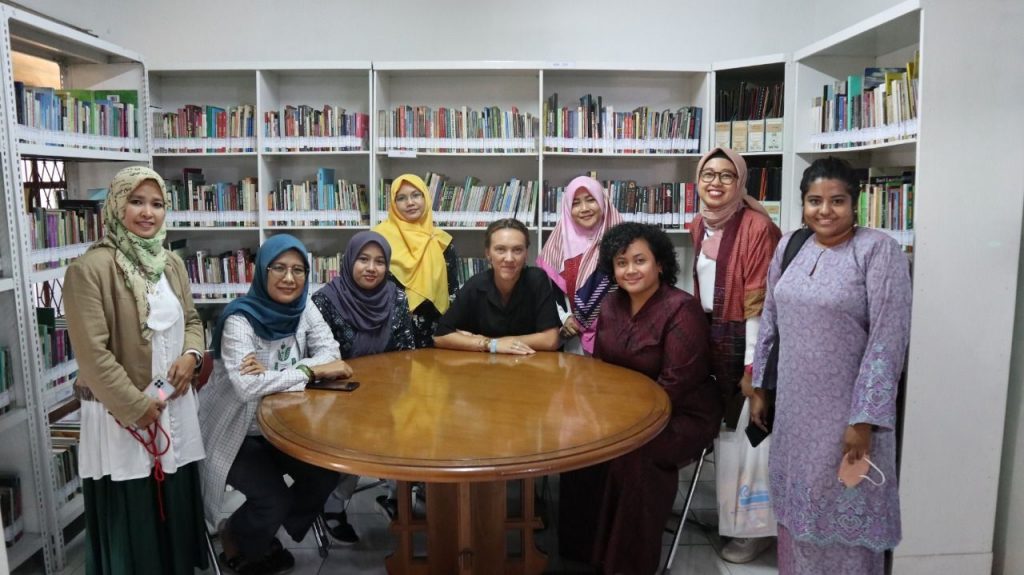 Photograph: Alethea Osborne, Senior Technical Specialist, Gender and Social Development at MannionDaniels, meeting with women's rights organisation Rahima in Indonesia
What is the Asia Network to end FGM/C?
Set up by ARROW and Orchid Project in 2019, the Asia Network is the first of it's kind in Asia. The group, made up of 80 civil society organisations and activists, come together to connect, collaborate and advocate to eradicate all forms of FGM/C in the region. FGM/C is reported to be practiced across 12 countries in Asia, driven by religion and culture. Despite its high prevalence, nationally representative data and information on the impact and severity of the practice is hardly documented, and FGM/C activists and organisations across Asia have mainly been working in isolation. The Asia Network aims to create a platform offering support in advocacy, capacity building, knowledge strengthening and research and data, to help change laws, policies, and social norms around FGM/C.
The Asia Network is working to ensure they can end the practice by:
Addressing the growing trend of medicalisation of FGM/C. This includes working directly with medical professionals, including those with influential platforms to explain why FGM/C isn't a medical need
Standardising terminology and language around FGM/C to improve shared understanding of both the practice and its effects
Shifting social and cultural norms that FGM/C is a religious obligation by working directly with communities to raise awareness of the harmful effects. This includes religious leaders and traditional chiefs - who have the power to speak out - and parents so they can make an informed decision about getting their girls cut at birth.
Improving and enhancing the global evidence base of FGM/C by creating networks and exchanging ideas globally through members, so they can learn from other Islamic nations that have combatted FGM/C
Working with researchers and academics to support research and data-collection in order to strengthen the evidence base on FGM/C in the region
Engaging governments across Asia to develop evidence-based National Action Plans, establish national budget lines and commit to providing country-level data in relation to Sustainable Development Goal 5 that directly relates to FGM/C.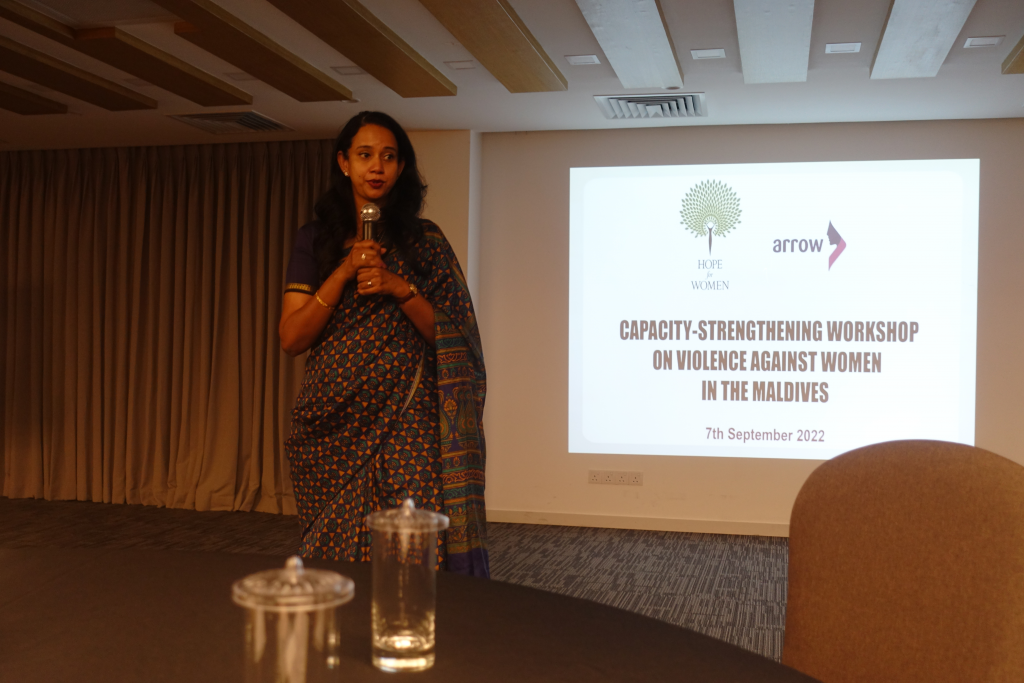 Photograph: Sivananthi Thanenthiran, Executive Director of ARROW presenting at a capacity-strengthening workshop on violence against women in the Maldives
Who are members of the Asia Network?
The Network is fast growing, and currently comprises over 80 members in the Asia region working towards girls' and women's rights.
For example, Love Matters, who are India's leading digital Sexual and Reproductive Health and Rights (SRHR) platform, provide honest and non-judgmental advice on SRHR, sex and relationships. This includes advice columns, events, workshops, research and 24/7 online help for SRHR issues, including FGM/C.
Another member, Hope for Women in the Maldives, are working towards ending all forms of violence against women (including FGM/C), promoting gender equality, and ensuring women have a voice in all aspects of their life.
Asia Network member Kalyanamitra are an information and communication centre for women and girls committed to gender justice. They work through three areas - advocacy and policy, knowledge management, and community development. Part of their advocacy focuses on women's leadership and inclusion in communities. They have conducted gender training in villages to increase involvement of women in village-level decision, such as FGM/C procedures and child marriage. This is empowering women and girls to know their rights and feel confident to speak out about such issues.
It is so important that women and girls have access to platforms and communities such as these where they feel safe and able to connect with others on issues that are otherwise rarely spoken about.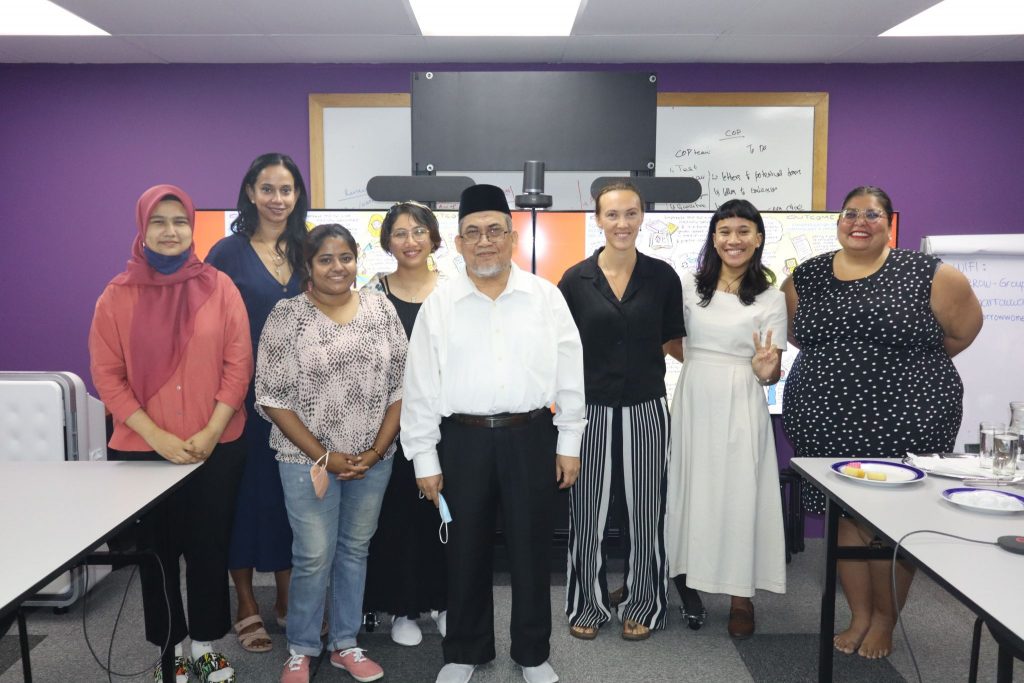 Photographs: FGM/C activists meeting at ARROW's offices, including Dr Ismail, a local imam
Why is the Asia Network so important?
No woman or girl around the world should have to go through the trauma of FGM/C. Not only does the practice have painful physical after-effects such as pain or lack of pleasure during sex, difficulty urinating and vaginal infections, but the psychological damages can be tremendous. Women and girls can feel anxious and depressed, isolated from others and suffer post-traumatic stress.
In Asia it is vital that networks such as the Asia Network exist to ensure FGM/C is not only spoken about but is recognised as a harmful practice that must be abolished. There needs to be a global awareness of FGM/C prevalence in Asia, and advocates across the globe must have a space to connect and work together to lift the silence that surrounds the practice in Asia. The Asia Network is just that. Not only can members learn and support each other, but together they can develop and implement effective strategies that are known to work in other countries to ensure girls in Asia are not left behind.
Whilst there is a long way to go in eradicating FGM/C, the Asia Network is just the beginning. Together, we can build a global movement of change, which must include Asia, and end FGM/C for good, ensuring women and girls have the rights over their own bodies that they deserve.