News
Top 10 tips from the UK Aid Match team on running a successful fundraising appeal
Posted: 29/03/2023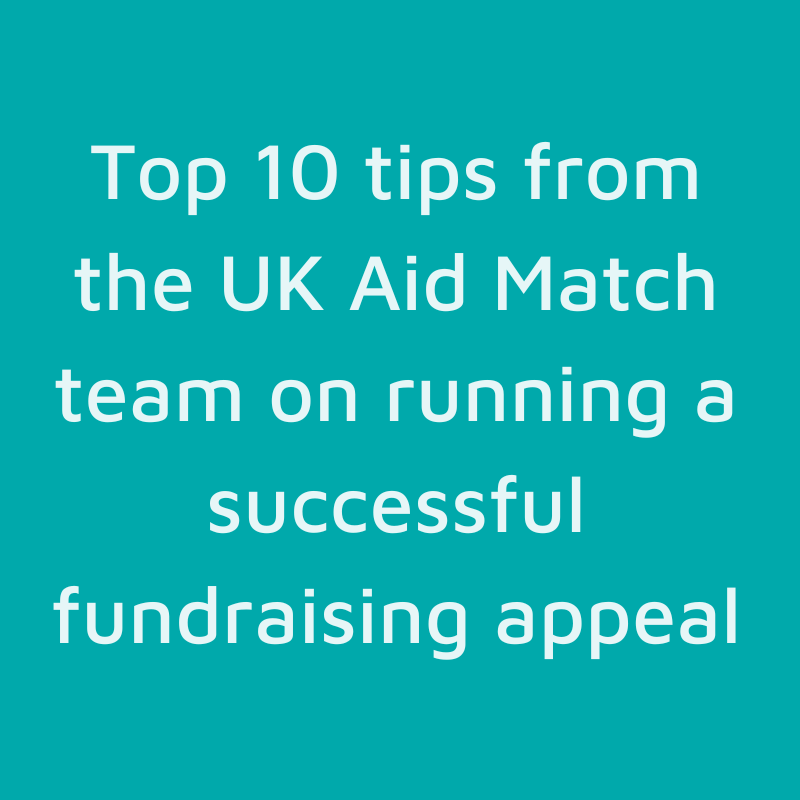 Article by Laura Else
MannionDaniels is fund manager for UK Aid Match, a Foreign, Commonwealth & Development Office (FCDO) fund supporting civil society organisations working towards the Global Goals.
In this article, we hear from the UK Aid Match team who have supported over 50 Civil Society Organisations (CSOs) to deliver over 80 successful fundraising appeals in the last four years. You can also listen to a number of UK Aid Match podcast episodes sharing insights and learnings from UK Aid Match CSOs on running successful fundraising appeals – from Trocaire, Right To Play and READ Foundation.
Whilst there is no secret formula for running a campaign, The Social Change Agency – who have worked alongside MannionDaniels and other partners to deliver the UK Aid Match programme since 2018 – have shared their top ten recommendations for CSOs to consider when running a match appeal.
Top 10 tips for CSOs delivering match funded projects
All CSOs, regardless of their size, should set a project lead and create an internal working group of key stakeholders when running a fundraising appeal. Appeals with a single, dedicated project manager to help keep the project on track really benefit.
Buy-in from teams across the organisation, particularly fundraising and marketing, is needed for the campaign to run as efficiently as possible.
Match funding provides opportunity to take risks and test new fundraising techniques (but only if there is sufficient capacity). Sufficient resources are needed to ensure CSOs are able to be creative and make the most of the opportunity that match funding provides.
CSOs should leverage the credibility of a UK government programme or similar to secure pro bono communications partners and high-profile or celebrity supporters. Partnerships can enable press engagement (local, regional or national) with new, older audiences for example, that might otherwise be missed on social media.
Working with in-country partners and local creatives for content gathering purposes works well. It offers potential donors the opportunity to see the impact of the CSOs work. Importantly, it also allows for the people involved in the programmes to tell their own stories, helping break down damaging and stereotypical narratives around the people and communities receiving foreign aid.
The most efficient and effective campaigns have had solid communications strategies in place, split into distinct phases. A clear plan for messaging and content developed in advance of the appeal launch helps the team plan ahead and not become overwhelmed during the busy appeal delivery period. Having a phased approach, with different focuses for each phase and a variety of content throughout, also helps keep audiences engaged over a three-month period.
There will always be external events that are out of the CSOs control. UK Aid Match CSOs have run their appeals in the context of COVID-19, the war in Ukraine, the cost of living crisis and the death of Queen Elizabeth II. Any communications strategy and content plan should therefore have built-in capacity to be reactive to the news cycle and zeitgeist if there is the need to be flexible and adapt to external situations.
Well thought out online journeys for audiences are effective at encouraging donations. This can be a challenge for smaller CSOs, who do not have the internal capacity for effective web design. However, where possible, creating a seamless journey from a website landing page or clicking on an advert to donate should be prioritised.
In-person and virtual events can be an effective way to engage audiences and make them feel part of a community. They can also help to engage communications partners and generate media coverage.
Appeal messaging that doesn't rely on traditional fundraising tropes is more effective at engaging new audiences and contributes positively towards shifting public perceptions about foreign aid. Messaging guidelines provided by UK Aid Match around the Narrative Project for example, that emphasise authentic, positive, solutions-focused messaging, are effective at generating donations.
Further guidance