Project
Strengthening leadership, management and coordination among Somali health authorities for the management of Somalia's national immunisation programme
MannionDaniels has been contracted by GAVI to strengthen leadership, management and coordination among Somali Health Authorities for the management of Somalia's national immunisation programme.
The Global Alliance for Vaccines and Immunisation (Gavi) wish to build and strengthen the leadership, management and coordination functions of Somali health authorities at a national, regional and district level. MannionDaniels will work to strengthen the capacity and skills of leaders and the Expanded Programme on Immunisation (EPI) teams in the management and implementation of the national immunisation programme. This work is aimed at improving immunisation coverage, through building and strengthening key governance functions of the Somali Health Authorities to successfully manage the National EPI Programme.
How will MannionDaniels do this?
MannionDaniels will look to strengthen governance and leadership by:
Carrying out a needs assessment of the EPI programme – identifying the gaps in the management and structure of the EPI program using an Organization Capacity Assessment (OCA) tool and together with the health authorities, develop a capacity building plan
Supporting the governance and leadership of the EPI programme based on capacity gaps identified in the needs assessment
Supporting the use of data for decision making – training and mentoring teams where there are gaps in implementing the existing Data Quality Improvement Plan (DQIP)
Supporting the coordination of EPI teams and EPI stakeholders to take a joint approach at a national to district level in order to have a better coordinated national EPI programme.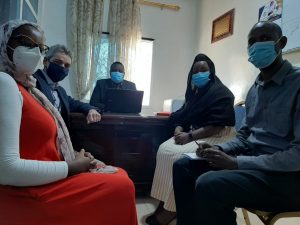 The project team meeting the Director of Planning Ministry of Health Development, Somaliland
What will happen next?
Initially MannionDaniels will:
Carry out a scoping/assessment to identified needs for institutional capacity building within health authorities. This will include assessing the impacts of COVID-19
Undertake a review of EPI departments at various levels
Develop a plan to build and strengthen key planning and management functions of EPI teams (central and sub-national levels), this will also consider linkages with COVID-19 response
Using a mentorship approach, work with EPI teams to improve the governance and leadership of the EPI prrogramme, improve coordination and build the team's capacity to use data for decision making
Provide costed annual operational plans for Gavi Health System Strengthening investments. These will also include an implementation tracking process and a framework for performance management.
Who else is involved
David Daniels, Betty Oloo, Catherine Wanjiku, Hassan Eymoy, Dr. Qayad