Project
Strengthening leadership, management and coordination among Somali health authorities for the management of Somalia's national immunisation programme
Created in 2000, Gavi is an international organisation – a global Vaccine Alliance, bringing together public and private sectors with the shared goal of saving lives and protecting people's health by increasing equitable and sustainable use of vaccines. In Somalia Gavi has provided more than $27m over 5 years from 2018, to improve access and demand for immunisation focussing on 25 priority districts. An additional $12.5m was programmed in 2019 for health system strengthening on integration, data quality, vaccine management and urban internally displaced persons.
MannionDaniels has been contracted by Gavi to strengthen leadership, management and coordination among the Somali Health Authorities for the management of Somalia's national immunisation programme.
MannionDaniels has been working with the Somali Health Authorities to identify the gaps and build the capacity and skills of leaders and the Expanded Programme on Immunisation (EPI) teams. Skills building has taken place across national, regional and district teams to strengthen the implementation of the national immunisation programme.
What support has MannionDaniels provided?
MannionDaniels has carried out the following:
Conducted needs assessment of the EPI programme. Using an Organisation Capacity Assessment (OCA) tool, we worked with the Somali Health Authorities to identify the gaps in the management and structure of the EPI programme.
Developed a capacity strengthening plan. A capacity strengthening plan was designed used to target specific issues, such as data quality and use, on at national, regional and district level.
Conducted tailored sessions with both individuals and groups, adopting a mentoring approach, applying a 'learning by doing' strategy.
Discussions on improving coordination mechanisms for immunisation. We have led engagement sessions with the Somali Health authorities to identify and address the barriers to a functioning coordination mechanism.
What has been achieved so far?
Strengthened understanding of roles and responsibilities of EPI team members at the different levels of delivery
Built team capacity to conduct annual budgeting and planning processes
Improved ability of team members to implement the Data Quality Improved Plan (DQIP)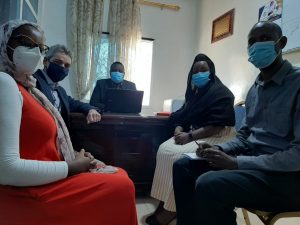 The project team meeting the Director of Planning Ministry of Health Development, Somaliland
Who else is involved
The project is being implemented solely by MannionDaniels.
Client: Gavi